By Coach/Underground: We recommend the 24-hour coach/bus services from Stansted Airport. Many flights from Europe can arrive late at night to Stansted. The coach services run to and from Stansted Airport Coach Station (located in front of the terminal forecourt) to London Victoria Coach Station. Tickets may be purchased on the coach or online before you travel. Visit www.terravision.eu, www.nationalexpress.com or www.easybus.co.uk (which goes to Baker Street). Victoria Station to Hammersmith Station can be reached on the District Line (green line). If it is too late for the Underground when you reach Victoria, take the 'nightbus' N11 to Hammersmith Underground station – which is also the bus station.
Once in Hammersmith Station, our B&B is then an 8-10 minute walk north on Shepherds Bush Road, just past Brook Green park, on the right hand side. Please also see the location map below.
By Train/Underground: A more expensive option, the Stansted Express train service runs every 15 minutes and reaches London Liverpool Street station in 45 minutes. See www.stanstedexpress.com for first and last trains. The Underground from Liverpool Street is direct to Hammersmith via the Hammersmith & City line (pink line) and should take another 35-45 minutes. Taking this line means you will come out of the smallest of the 2 Hammersmith Underground buildings. You will have to walk to the left and we are then approx. 8-10 minutes walk north on Shepherd's Bush Road.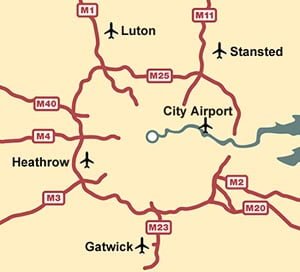 On the below map, open the menu on the left to browse our location